Ormiston Rivers Academy Curriculum Provision
Miss S Carroll (Assistant Principal)
Email: [email protected]
At Ormiston Rivers our curriculum vision is: "Deepening Learning, Raising Aspiration". This is intrinsically tied to the curriculum vision of our academy sponsor: "Teach, Develop, Change".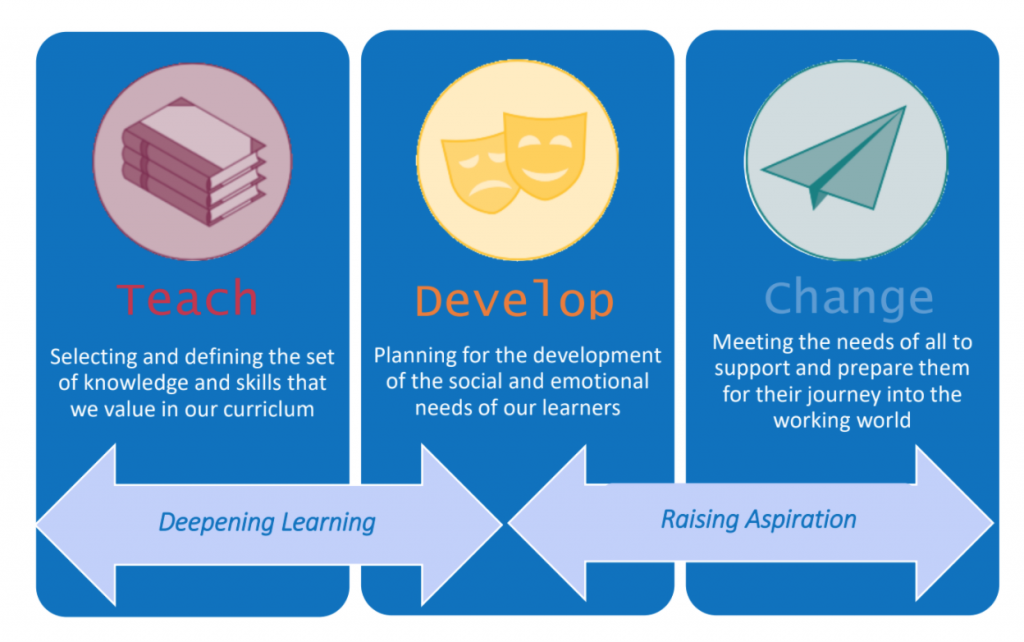 As part of the OAT "teach" strategy, we offer a broad and balanced, fully comprehensive curriculum, to suit the needs of all learners in our local community from year 7 through to year 13. We recognise the value of the national curriculum and, as such, our curriculum offer is aligned with it and further enhanced by our commitment to the creative arts. We ensure that our offer is tailored to students of all abilities through our curriculum provision as well as our "Pupil Premium Promise" and our "Elite Scholars Programme". We are proud of the facilities in our academy, which enhance the learning of our students on a daily basis, notably our motor vehicles suite, our performing arts spaces and our well-equipped science labs. All of this reinforces our commitment to "deepening learning" through our broad set of skills and knowledge, which have been carefully selected and sequenced in each department area.
As part of the OAT "develop and change" strategy, our curriculum aims to develop aspiration, independence and resilience in our learners, whilst instilling a sense of respect as part of a moral compass. We highlight the importance of British Values in both the formal taught curriculum, the formal learning with mentors and achievement directors and the informal learning that takes place in our enrichment programmes. We take pride in our well-being provision within the school, promoting the importance of good mental health and appropriate support for those who face mental health challenges. We promote the importance of social justice and social action through our work with the #makehappen and #iwill campaigns. Our high profile careers Selecting and defining the set of knowledge and skills that we value in our curriclum Planning for the development of the social and emotional needs of our learners Meeting the needs of all to support and prepare them for their journey into the working world Deepening Learning Raising Aspiration Teach Develop Change programme supports students in accessing the valuable information that they need in order to make decisions about their future. These aspects of our curriculum provision enforce our commitment to "Raising Aspiration"
Ormiston Rivers Academy occupies a unique geographical location, being both coastal and rural. As a result of this we place enormous value on the importance of enrichment in the lives of our students. We offer a range of extra-curricular provision to support the development of cultural capital in the delivery of our curriculum. This includes, but is not limited to:
Sports
Performing Arts
Debating
STEM activities and competitions
Rotary young chef competitions
Chess
Pride
Brilliant Club
A wide variety of national and international trips and visits
External speakers
We are a truly inclusive community comprehensive school and we value the input that our local community provide in our curriculum provision. We have been ranked consistently over the last number of years as one of the highest performing schools in the county and are heavily oversubscribed. We are supported in various curricular areas by our local rotary club, our local town council, our religious community and local professionals. Our staff care deeply about the future prospects of our students, which is reflected in both the care and compassion we provide to students as well as the outstanding outcomes our students leave with as a result of a bespoke and personalised curriculum offer which equally values the academic and vocational pathways, to cater for the needs of all of the students from our local community.
Reading
At Ormiston Rivers Academy, we aim to engender a lifelong love of reading and ensure that our students value the joys of both the written and spoken word. In doing so, we will both empower students to succeed in their English qualifications whilst also equipping them with the tools (language, curiosity, empathy and creativity) required to make positive contributions to society.
We believe that the ability to read fluently is an inalienable right and aim to ensure that all students have access to the full curriculum through reading interventions (E.g. one to one, guided reading).
Through the use of a well-resourced Library and dedicated Librarian, reading programmes (Accelerated Reader and MyOn), Register and Read, DEAR time, Author visits and the celebration of events like World Book Day, we aim to inspire a love of literature and appreciation for the power and beauty of the English language.
Destinations
We believe that the curriculum we offer our students will support them in following any career path they chose when they have left us. Below is a series of videos of our alumni describing their learning journey with us and where it has taken them.