Teacher Training
Ms Sally Havard (Lead Trainer)
Email: [email protected]
We are always looking to support new entrants to our profession and there are many routes in! If you are interested in training to teach why not get in touch for an informal chat about the options available to you? We have excellent support packages and links with many external agencies so can support you to find the best way forward.
We have several bespoke CPD packages that our Academy have developed to support both new and developing teachers from our New to Teaching Programme through to our Outstanding Teaching and our Leadership Development Programme.
All new teachers to our academy are given a "Buddy"; someone who is their 'go to' with any questions, challenges and day to day issues. All Student Teachers and NQTs are given a specialist Mentor to support every step of the way and are enrolled on our support programs.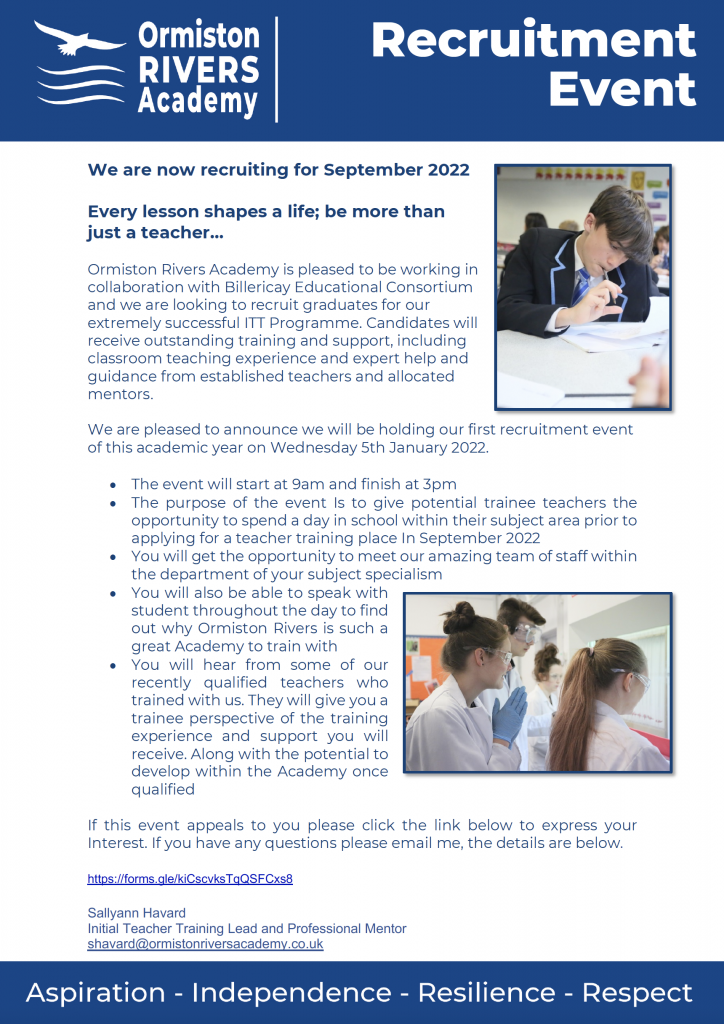 Our Teaching School Alliance
Ormiston Rivers Academy is pleased to be working in collaboration with Billericay Teaching School Alliance.
Billericay Teaching School Alliance works with teachers, schools and a wide range of organisations seeking innovative ways to impact on every day learning experiences of children in the classroom. They partner with Billericay Educational Consortium SCITT (Initial Teacher Training) to recruit and train both Primary and Secondary teachers as part of our Initial Teacher Training programme.​
They provide a wealth of developmental opportunities for non-teaching staff, support staff, administrators, managers, teachers, leaders and governors, developing practice and striving for the highest of standards. BTSC constantly reflect on classroom practice and School Improvement through Research and Development, creating opportunities for individuals and groups to link theory and practice in order to be more effective.
Working collaboratively they aim to drive significant improvement in the quality of professional practice, improving the life chances of every child.
For further information please visit Billericay Teaching School Alliance
A CAMStar School
CamStar (Cambridge, School Teachers and Research) is a non-hierarchical, collaborative research group working closely with teachers and schools based at Cambridge University.
Current Vacancies
Teaching vacancies:
Teacher/Lead Practitioner - DT
DT/Engineering Teacher/Lead Practitioner - relocation package available, Essex - Tes Jobs
Teacher/Lead Practitioner - Geography
Geography Teacher/Lead Practitioner - relocation package available, Essex - Tes Jobs
Support vacancies:
School Administrator
School Administrator (essexschoolsjobs.co.uk)
Finance Assistant